October 12-14, Famoso Raceway-Bakersfield, CA- The 16th running of the California Hot Rod Reunion was an event for the record books. For those who were first-timers at the CHRR, such as Grand Marshal Ed McCulloch, they were blown away by the magnitude of the event. Simply put, they had heard about it but had no idea what went on.

From its inception, the concept of the CHRR was to reunite racers who had long since retired from the sport, share stories, remember those who had passed, honor those who made an impact on the sport, and watch an old rail or two make a squirt down the track. Steve Gibbs, who fostered the idea to hold such an event following a gathering of friends and racers at a funeral, couldn't possibly have imagined how broad the event's appeal would grow after the inaugural event, much less draw international representation from media and racers alike. It's become that big.

Amid the on-track action, performance highlights, and large gathering of drag racing legends, the single common theme throughout the 16th CHRR; remembering Wally Parks. Race cars, tow vehicles, and pit areas were dotted with Wally Parks memorial stickers, handmade signs, or shoe polish messages in a rear window. In each case, it was just their way of saying, "Thank you, Wally." If not for Wally's lifelong dedication to providing hot rodders a safe environment in which to compete, there wouldn't have been a California Hot Rod Reunion.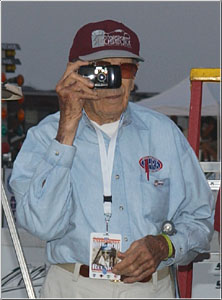 In memory of Wally Parks